One of the major advantages of organized retail, apart from low prices, is the vast array of choices it provides to the consumers. In the last few years, the rapid increase in the number of super-markets and mega-markets in the country has been accompanied by an explosion in the varieties of every imaginable merchandise that populates their shelves.
But like many other transformations that retail sector has been undergoing, a rather unexpected one has been gaining grounds, and it is not so recent. Retail giants like Walmart are already cutting down the huge number of choices offered in their stores, favouring only selected varieties which are generally preferred by the customers. But how does this make any sense? As it turns out, organized retail players all over the world are facing heat due to at least one of the following factors:
1.
Rising real estate prices,
2.
Expenses of managing a large number of SKUs, their supply chains and inventories,
3. Loss of opportunity of tapping consumers in urban centers where space is a scarcity and huge shopping centers cannot be established and
4.
Loss of opportunity to tap communities of consumers in rural areas, which are too small to sustain a super or mega market.
These are also the significantly responsible reasons for the losses being incurred by almost all the organized retail players in India. Stocking a large number of products and their varieties calls for huge real estate investments, and that has been made very difficult by the sky-rocketing real estate prices. Towns and villages are usually dominated by unorganized retailers as they have been so far neglected by the organized players.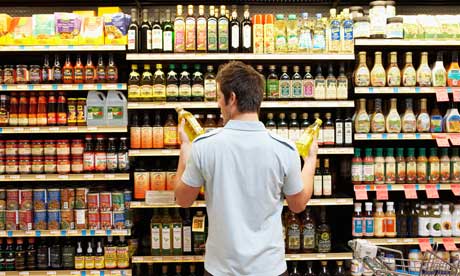 Another important aspect is related to the consumers. It has been found that though providing some variety boosts customer satisfaction, going too far might lead to "customer confusion". Too many choices overwhelm the customers and lower their buying intent. The solution lies in bringing to them a few, "well-researched" types of products instead of too many varieties. This is the simple concept of "Less is More". So, in a nutshell, this enables the organized retailers to achieve the following:
1.
Better customer satisfaction,
2.
Lesser number of SKUs to manage and hence simpler inventory,
3.
Ability to establish small-sized stores with low real estate investments and
4.
Ability to establish small-sized stores in urban centers as well as in rural areas.
It follows that Walmart's decision of opening dozens of scaled-down stores in the near future is not surprising at all. It is interesting that some Indian retail giants have already been following this model. One close example could be the Mumbai based D-Mart. Future Group also runs a chain of small stores called KB's Fair Price, apart from the giant Big Bazaar stores.

"Less is More" has far wider implications than what appears from this article so far. For example, in a recent interview with The Economic Times, the MD and CEO of Bajaj Auto Mr. Rajiv Bajaj stressed upon the relevance of this idea to the competitive motorcycle market. Apparently, this has allowed Bajaj to gain a strong position in the market in the last few years. Though the top position is still held by Hero Motocorp, Bajaj Auto has stunned everyone by becoming the most profitable motorcycle manufacturer. The company claimed 58% of the total profits generated by the industry in 2010-11.
As the companies go "on diet" to become more efficient and move faster than the competition, the focus will now shift on selecting the "right diet" or the best choices to be provided to the customers.